Hurricane Ian's onslaught on Florida may be over, with sunny skies returning, but local police are telling residents it could be months before they can return to their homes.
Meteorologist Cameron Hardin tweeted an update he received from a Fort Myers Beach resident Monday morning. The town, which is in Lee County, was one of the areas hardest hit by Hurricane Ian and received the brunt of the Category 4 storm's damage.
According to the tweet, search-and-rescue efforts are still underway days after the hurricane passed through. "According to a sergeant at the sheriff's department, it could be MONTHS before residents and home owners are allowed back to their property," wrote Hardin, who is with NBC affiliate WLWT in Cincinnati.
Hurricane Ian claimed 76 lives in Florida and four more in South Carolina, where the storm resurged after exiting Florida and curling through the Atlantic. The death count is rising as officials continue search and rescue operations throughout the state. More than 1,000 people have been rescued from the hurricane's wreckage, according to CNN, with most of those people being rescued from Lee County.
Many Fort Myers Beach residents evacuated in fear of the flooding that was expected from record storm surge levels. Some are considering returning home now that the storm has passed, but local police are urging against it.
One resident sent a message to Hardin saying she communicated with a Fort Myers Beach police sergeant who updated the resident on the situation. Hardin shared the message on Twitter.
"We are going to try to fly home tonight. He said it will be at least a month or months before we will be allowed back on the beach," the message read. "Unfortunately he said they are not even close to being anywhere even halfway done with search and rescue."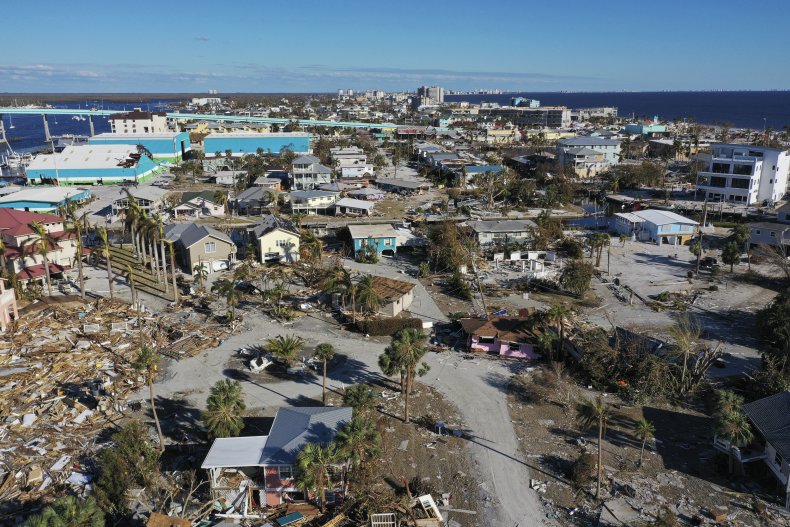 Over half a million Floridians do not have power, and the damage costs from the storm are still being totaled. Some reports say Hurricane Ian is expected to be the most expensive storm in Florida's history—and possibly the deadliest.
Sometimes, official hurricane deaths can be difficult to total, as both direct and indirect deaths can be caused by the storm and some officials don't agree on what constitutes a direct death. Direct hurricane deaths include those from drowning, falling buildings or flying debris. Indirect deaths include those that occur during evacuation or if medical care is postponed too long because of the hurricane's conditions.
In a Facebook post late Monday morning, the Lee County Sheriff's Office urged Fort Myers Beach residents not to venture into the area.
"Fort Myers Beach is impassable. We hear you. We understand you have loved ones on the island. Please understand it's not safe to drive onto the island," the post said. "Bicycles cannot even make it through clear pathways."
The Fort Myers Beach resident told Hardin that the sergeant said once search and rescue operations ensure there are no bodies in homes, windows will be boarded up with plywood to prevent looters from entering.
"I find that hard to believe but praying that they will," the message said.
Newsweek reached out to the Fort Myers Beach Police Department and the Lee County Sheriff's Office for comment.