An Ohio deli is being criticized online after a sign it posted calling for job applicants went viral.
Pickled Dick's Deli and Catering Co. of Uniontown, Ohio, posted a sign on the establishment's front door and a photo of it in a now-deleted Facebook post on September 28. The photo of the sign appeared Friday on the popular r/antiwork Reddit forum, captioned "I just can't with this one," along with an emoji of a facepalming woman. The post earned 34,000 upvotes and 3,300 comments in seven hours.
"We are so close, I mean close. Problem is no one wants a job. Got someone interested in working part-time or full-time, send them our way! Sitting in your mom and dad's basement playing video games, get off your butt and get a job! Mom and dad signed up for 18 years, not 33+ years!" the sign read. "Let's put our big boy and girl underwear on and get a job!"
In screenshots of the now-deleted Facebook post, Pickled Dick's captioned the photo, "Enough said!"
Posts on Pickled Dick's Deli and Catering Co.'s Facebook page from the past two months have revealed the company's trouble finding workers before it opens to the public. In one post dated September 2, the company announced it would not make its target opening date of September 7. It posted calling for employees to apply on August 16 and again on September 20.
In comments, Pickled Dick's said that kitchen staff were offered $15 per hour, while front of house and servers would start at $11 per hour, plus tips. In a post on Glassdoor, however, the position of part-time/full-time cook was listed at $12-13 per hour. Benefits listed for the position were a "flexible schedule" and "food provided."
The average hourly rate for a "food preparation service worker fast food" is $15.83 in Uniontown, according to SalaryExpert.com. SalaryExpert lists the average for the same position at $16.95 an hour nationally.
Newsweek reached out to Pickled Dick's Deli and Catering Co. for comment.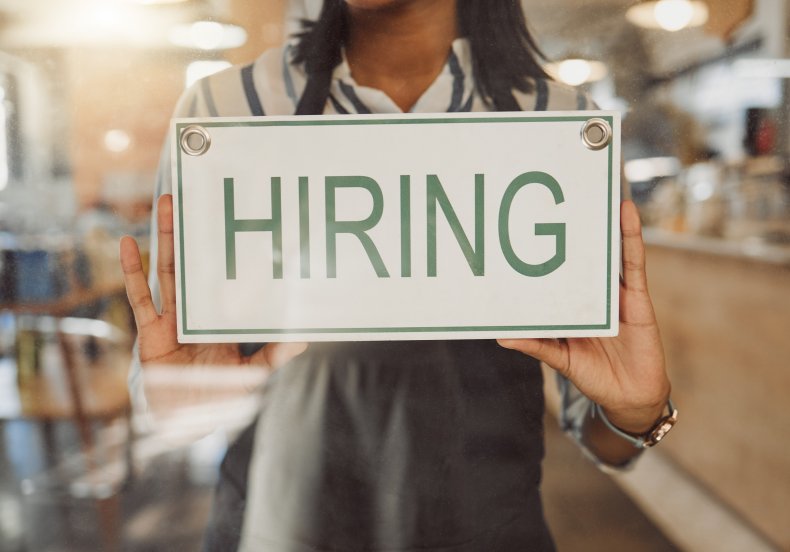 The phrase "people don't want to work" has long been a refrain from employers frustrated at their inability to find employees. Paul Fairie, a researcher at the University of Calgary, published a series of tweets called "A Brief History of Nobody Wants to Work Anymore." He found the phrase dating as far back as 1894, in reference to a eight-week strike of bituminous coal miners.
However, there have also been many examples of potential employees hitting back. They say it's not that they don't want to work, but that they don't want to work for low wages and few benefits. A 2021 Pew Research Center study showed that over 60 percent quit their jobs that year due to low pay.
President of the United Food and Commercial Workers International Union Marc Perrone disputed the idea of a "labor shortage."
"I don't think it's a labor shortage," Perrone told Newsweek. "I think it's a wage shortage—especially in retail."
In one story published by Newsweek, a "boomer dad" who frequently complained that no one wanted to work changed his tune after getting a minimum wage job at a local hardware store after being semi-retired.
"Until last week he was generally a 'work hard/bootstraps' kinda guy, but after just 6 shifts full of backbreaking labor and passive aggressive management for minimum wage, he's come to understand just how bad low-wage workers have it and is rightly pissed off," the man's offspring wrote.
Pickled Dick's Deli and Catering Co. was criticized on both Reddit and Facebook.
"Instead of giving up & closing, why don't the owners just work the store themselves? Open up to the public and work your own business until you're able to afford employees. If they're brand new, it's doubtful they'll be so overrun with customers that they can't manage it on their own," u/xfaeryprincessx suggested. "Stores are usually understaffed anyway so customers will be used to one or two frazzled workers doing everything."
"It's funny when people get the 'pull yourself up by your bootstraps' analogy wrong. The whole point of the analogy is you can't pull yourself up by your bootstraps it's a futile task," u/SaucyMerchant84 wrote.
"And have any of these types of signs ever worked? Has anyone been shamed into applying for a job?" u/Call_Me_Echelon asked. "I feel like insulting people before they even step foot into your business isn't the best approach to hiring someone. How do they not understand that these are just warning signs? They should just put up a red flag instead. This is literally what I put on the door of a rival store to screw them."
"Pickled Dick really has a way with words huh?" u/dadbod9000 wrote. "Also unemployment is as low as it's been in my entire adult life, and I have few years on me. People are working, they just don't wanna work for crumbs."
"Have you considered paying people enough to make it worth the bother? Nobody owes you their time and labor," Facebook user Jason Mitchell commented.
"That's not enough to even afford rent, let alone gas, insurance, groceries, etc. And the tone of the message on the building was far too aggressive to be blaming it on everyone else," Facebook user Alley Fry added.