I was a commercial photographer for 30 years and lived in conventional housing before I decided to move into a tiny, traveling home. In 1996, I was married and my wife had a friend that fled an abusive relationship. She was staying at a shelter over the Christmas period and I began taking portraits of the families there, to help out. That's when my passion for portraits grew.
I got a job full-time at Central Washington University as a commercial photographer in the early 2000s. Being paid to create advertising that will sell a product didn't feel fulfilling for me, so I decided to live a minimalist life and help others.
I built a tiny home in the back of an old military trailer which was only six by eight feet. I slept in that small space for five months, until the spring of 2014, when I began paying $600 a month to rent a small room.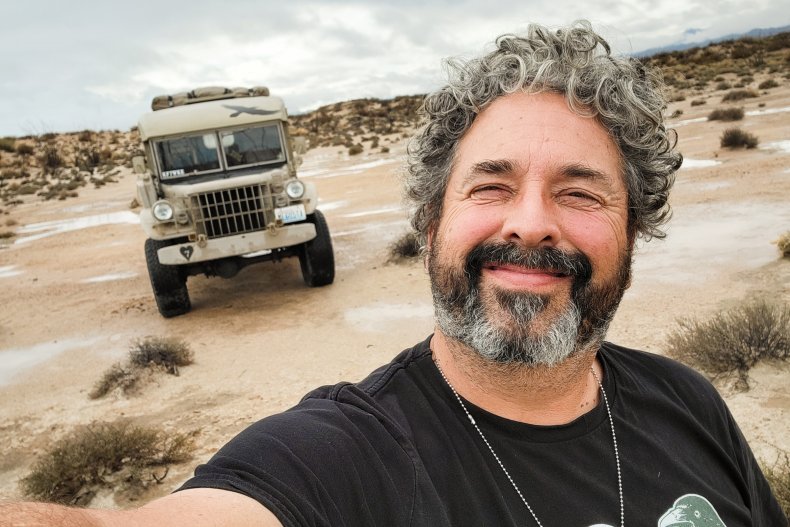 The same year, I assisted my daughter with a high school project she was working on. We did a free photoshoot in the Ellensburg, Washington community for underprivileged families and my love for personal photography was instantly reignited.
Portraits generally leave a legacy for everybody; they stick with a person, and their family, forever. I realized that a lot of the women that I was photographing had small children, and were in constant survival mode. They generally couldn't afford to pay for beautiful professional portraits.
Shortly after, I attended the Burning Man festival in Nevada. It was the most spiritually beautifully place I had ever been to, and while there, I realized that I wanted to dedicate my life to traveling in a tiny home on wheels, visiting underprivileged families and taking portraits of them to help out the community.
I had always wanted to do something like this, and it seemed like the right time for me. So, in September 2015, I put out a notice on Facebook, telling my network that I was looking for a 1940s or 1950s, four-wheel truck. A Facebook friend who was based in New York saw a Craigslist advertisement in Ontario, Canada, from someone who was selling a former Canadian Armed Forces military truck. It had been in a barn for over 30 years and nothing inside it worked. But the minute I saw the pictures, it snapped me back to when I was a teenager. I had a friend whose dad had a similar vehicle, an M43 ambulance, in his backyard. I always thought: If that thing worked, that would be so cool.
I'm generally very sentimental, and get attached to vehicles and I wanted something that would reflect who I am; my personality, my priorities, and my style. So, I quickly messaged the owner. Buying this military truck was a choice of the heart because practically, I could have chosen a more modern vehicle which would have made more sense, but I wanted something fun.
The guy who was selling it wanted $10,000 because the vehicle is very rare. At the time, I only had $1,000 to my name, as I was going through a divorce and transitioning jobs.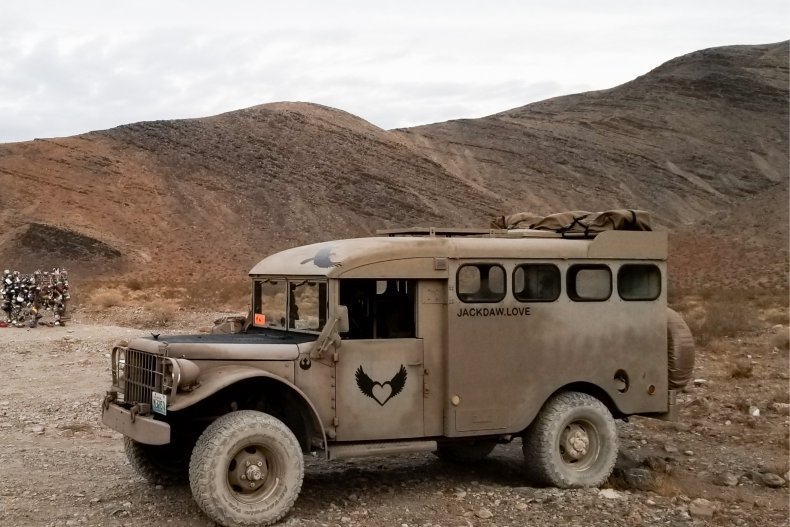 In October 2015, I had a brief conversation with the owner and explained my situation. My goal was to travel in this truck and gift homeless families with free portraits of themselves. I also explained that my daughter's college project inspired me, along with attending The Burning Man festival.
The owner of the truck said that he would sell it to me for $6,000 and that I would have to pay the remaining $4,000 in six monthly installments. So, I quickly sold some of my belongings and sent him the first $2,000.
The truck has many windows as it was originally a mobile command post, so when I saw them, I knew it would be perfect for me to spend time in. I would have a 360-degree view and a lot of light coming in. I was looking for something that would put a smile on my face every day because when you live in a vehicle, it can be isolating, and sometimes it can also be challenging emotionally because it's not the norm. It's an unconventional lifestyle. I also wanted something that would be memorable, and very approachable.
Within four months, I had paid off the truck. I then thought that I could book a flight to Ontario with my tools and take the van back to where I lived, in Washington; I wasn't aware that transporting a vehicle from one country to another was difficult. I also soon realized that the brakes didn't work at all, as they were 65 years old and destroyed. So, I hired a transport company and paid $3,000 to get the truck to central Washington state. In May of 2016, the truck was finally dropped off in my driveway.
Following that, it took me two years to renovate it completely.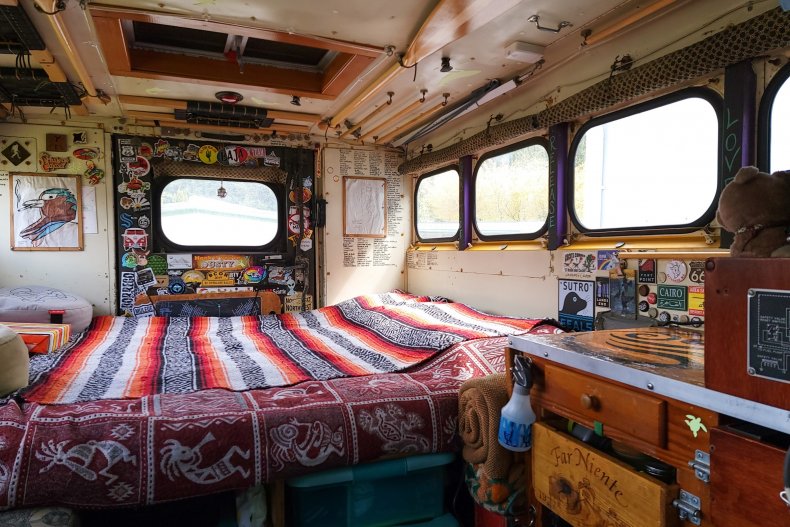 In 2016, my divorce was finalized and in 2017, my wife sold our house. I knew that I wanted to live a minimalist life, and wasn't going to have room for excess things but the truck has a huge personality, even though the space is still tiny. The interior is only 60 square feet. It's small, but cozy because the walls are vertical and don't curve in, like in most modern vans. This makes it feel a lot bigger than it is on the inside.
During the renovation process, I built a large storage bed in the back, but I did not want to block the view from the truck by building a wardrobe, so I placed my entire wardrobe in two tubs, under my bed. I decided to pack a week's worth of clothes, so I can go 10 days without doing laundry. When it is time for me to wash them, I'd use a bucket and laundry detergent, and hang them on a line.
I have a domestic fridge stuck under the drawers next to my bed. The engine's charging system powers that; I can also run it off the solar panel I built on my roof, which is 100 watts.
I have also kept the original dome lighting the same in the truck, as the lights were designed to fill the truck when the Canadian army was in operation. To hang excess bits, I found objects with magnets in them to hang glasses, cutlery, jars, and even my curtains. I also cut a big window through the roof to let all the heat out and be able to have views of the sky.
I used to have what's called a cassette toilet in the truck but it took up too much space. So, I got rid of that and used a stainless steel bottle for my duties. I do also find public bathrooms for another hygiene purposes.
My truck offers a comfortable sleeping space and I can spend time here reading and cooking, as I have a portable kitchen that expands from the back door. But I spend most of my life outside.
Overall, the renovations cost me $2,500 and the mechanical repairs, along with the restoration of the truck totaled $27,000.
When I began traveling in it, I didn't realize that many people were drawn to my truck. When parked in a public space, I had conversations at least every half an hour, as somebody was always curious. Even when I visited shelters to do my shoots, the kids were thrilled. They climbed all over it and had a lot of fun.
The fact that I am living an extremely minimalist life does not matter to me. I am more thankful than I have ever been. I don't know how my life will pan out in the long term, but I just keep taking small steps. I've gained an enormous tolerance for risk and a big amount of faith that what I'm doing is meaningful. In 2018, I decided to leave my job as a commercial photographer in hopes of traveling and helping out others full time.
The financial support that I am receiving from the people who have heard about my journey continues to grow daily. I have been surviving primarily on retirement funds and my monthly patronage is still about $600 a month away from covering my baseline expenses.
But within all of this, it has become very obvious to me that what I'm doing matters; it's meaningful and has a purpose. In 2023, the plan is for me to take my daughter and son to The Burning Man festival, because it was very inspirational to me, and the people I met in the temple helped me. I keep seeing, time after time, that support comes along right when I need it. I just keep living in faith.
Richard Villacres is a nomadic photo-philanthropist. He now dedicates his skills to gifting homeless families with professional portraits. Richard lives in a 1952 Dodge M152 that was originally a command truck in the Canadian Armed Forces. You can find more information on his website, here.