Steve Bannon, the ex-adviser to former President Donald Trump, predicted Thursday that Senator Kyrsten Sinema, a Democrat from Arizona, will change her political affiliation following the 2024 election.
Bannon's comments came after Sinema attended an event with Senate Minority Leader Mitch McConnell earlier this week during which she praised the GOP senator from Kentucky and highlighted their friendship.
At the University of Louisville's McConnell Center on Monday, the Kentucky Republican called the moderate Democrat, who has blocked some of her party's legislative priorities, "the most effective first-term senator I've seen in my time in the Senate."
In a post on the conservative social media platform Gettr, Bannon linked to an article published in The Hill, which reported that McConnell has been "cozying up" to Sinema, and referenced the event in Louisville this week.
"Senator Sinema is looking downrange at the '24 cycle when the Republicans will only increase the majority they win in the Senate in '22 …the '24 cycle is that strong — watch her switch parties or go 'independent' and caucus with the Majority…" Bannon wrote in the post.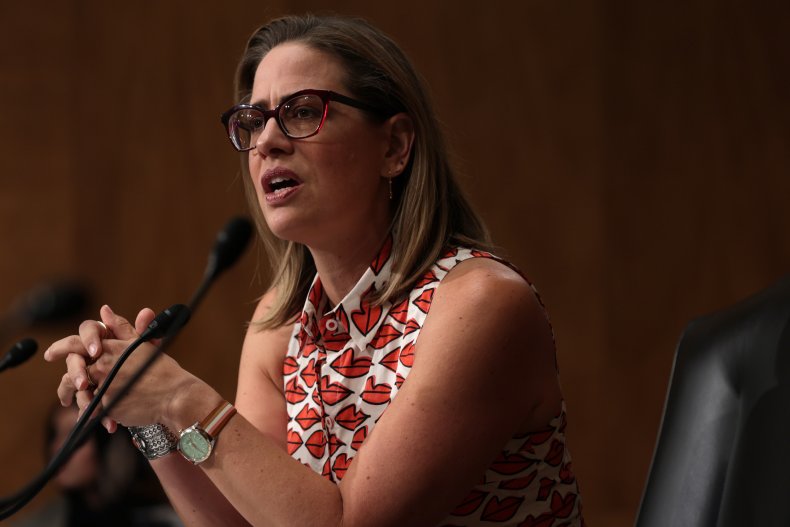 Sinema said on Monday that despite their "apparent differences," she and McConnell "have forged a friendship, one that is rooted in our commonalities, including our pragmatic approach to legislating [and] our respect for the Senate as an institution."
She added: "In today's partisan Washington, it might shock some that a Democratic senator would consider the Republican leader of the Senate her friend. But back home in Arizona, we don't view life through a partisan lens… while we may not agree on every issue, we do share the same values," she added.
Sinema also reiterated her support for the Senate's filibuster rule, a position for which she has faced criticism among those in her party.
Democrats have sought to change the rule—which requires that senators reach a 60-vote threshold to pass legislation— to advance certain priorities, such as an effort to preserve abortion rights and a voting rights bill. However, Sinema has opposed her party's efforts to modify the rule and defended "its role protecting our country from wild reversals in federal policy."
McConnell said Sinema is "what we have too few of in the Democratic Party—a genuine moderate and a dealmaker," adding that "she protects the institution of the Senate."
"It took one hell of a lot of guts for Kyrsten Sinema to stand up and say 'I'm not going to break the institution in order to achieve a short-term goal' and in the end, only two, just two of the 50 Democratic senators were willing to protect the institution," McConnell said, apparently referencing West Virginia Democratic Senator Joe Manchin in addition to Sinema.
Newsweek has reached out to Sinema's press office for comment.
FiveThirtyEight currently predicts that Democrats have a 68 percent chance of retaining control in the Senate in the upcoming midterm elections.