Just days after Hurricane Ian ravaged his home state, Representative Matt Gaetz was one of many Republicans to vote against a stopgap measure that would continue funding the government and provide billions of dollars in extra disaster assistance.
The House of Representatives approved a continuing resolution on Friday, giving the Federal Emergency Management Agency (FEMA) the ability to spend through the Disaster Relief Fund, freeing up $15 million more in aid for disaster relief. Only 10 Republicans voted for the measure, two days after a Category 4 hurricane barreled through Florida, killing dozens and causing billions in economic damage.
Gaetz indicated he'd vote against funding to benefit government agencies earlier this week. He joined dozens of his colleagues in signing a letter that they would "do what is necessary" to prevent additional funding for the Biden administration.
"Any legislation that sets the stage for a 'lame duck' fight on government funding gives Democrats one final opportunity to pass that agenda," the letter said. "Therefore, we, the undersigned, will oppose any continuing resolution that expires prior to the first day of the 118th Congress, or any appropriations package put forward in the remaining months of this Democrat-led Congress."
None of the representatives who signed the letter voted in favor of the resolution.
The House's passage of the bill follows the Senate passing the bill with 25 Republicans supporting the measure. The bill will now go to President Joe Biden's desk to be signed.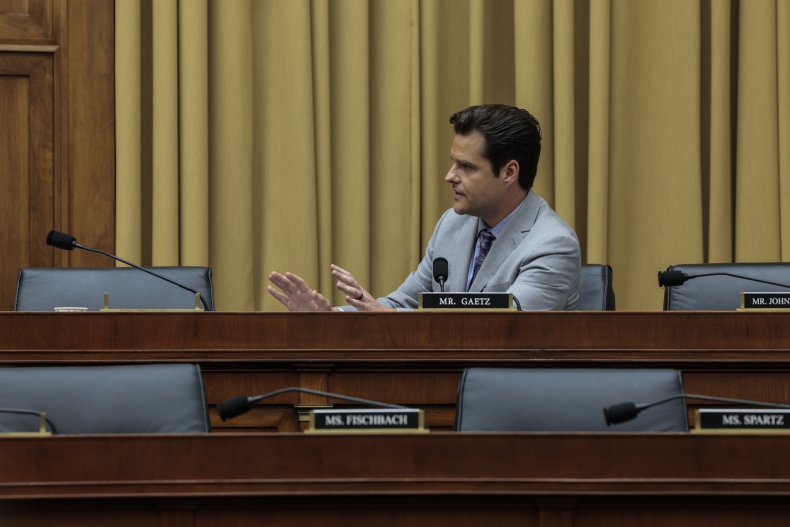 Biden recently approved a major disaster declaration for Florida, which released federal funding for nine Florida counties affected by the hurricane. Those who lost their homes and possessions can apply for federal grants to secure temporary housing, repair their homes or obtain low-cost loans for uninsured property losses.
"Folks in Florida who have destroyed or damaged homes—if you don't have enough insurance, it means the federal government will provide individual assistance of [up to] $37,900 for home repairs, another $37,900 for lost property—everything from an automobile to a lost wedding ring," Biden said on Thursday.
He also implied the death toll could rise as damage assessments continue, calling Ian potentially one of the deadliest storms in Florida's history. As of Friday, WBBH-TV in Fort Myers, Florida, reported the hurricane had killed at least 21 people.
Before the hurricane hit, Biden declared a state of emergency for Florida, which authorized the Department of Homeland Security and FEMA to coordinate disaster relief efforts. The hurricane could be one of the costliest storms in Florida's history, and it is estimated to have caused up to $65 billion in damage.
Newsweek reached out to Gaetz's office for comment.