Former federal prosecutor Glenn Kirschner said this week that it's a "deep injustice" that January 6 defendants are being tried and punished in connection with last year's Capitol riot while former President Donald Trump "is playing golf and holding hate rallies."
Kirschner's comments came during an interview on the The Dean Obeidallah Show, and as a high profile trial of January 6 defendants is scheduled to begin next week. Five defendants tied to the far-right group, the Oath Keepers, are being tried on charges of seditious conspiracy.
During his radio show, host Dean Obeidallah said that based on reporting and a federal indictment he read, there's "no denying" that Capitol rioters "believed with every fiber of their being that they were doing this for Donald Trump. That they believed the election was stolen because Donald Trump told them it was stolen, that they were being called there for January 6 because Donald Trump tweeted 'Be there on January 6.'"
Obeidallah then mentioned one of the defendants, Kelly Meggs. According to the Associated Press, Meggs allegedly wrote on Facebook before the riot: "Trump said It's gonna be wild!!!!!!! It's gonna be wild!!!!!!! He wants us to make it WILD that's what he's saying. He called us all to the Capitol and wants us to make it wild!!!"
The other defendants in the case include Oath Keepers founder Stewart Rhodes, as well as Jessica Watkins, Thomas Caldwell and Kenneth Harrelson.
"How, for the life of us, is Donald Trump not a defendant in this trial?" Obeidallah then asked.
"I don't know Dean and that is a deep injustice at play in America right now. The boots of the insurrection. The people who Donald Trump lied to, convinced their vote had been stolen, and then ordered them to attack the Capitol…They are being held accountable: they are being tried, convicted and imprisoned, and Donald Trump is playing golf and holding hate rallies," Kirschner said.
"I mean if that is not a deep injustice at play in America right now I don't know what is. And we haven't seen one minute of accountability visit the command structure of the insurrection, the suits of the insurrection—only the boots of the insurrection and that is not right," he added.
Newsweek has reached out to Trump's press office for comment.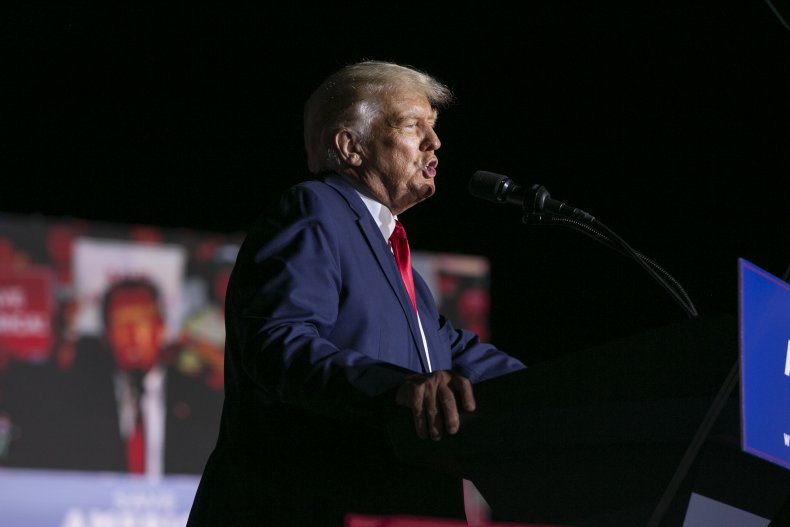 Kirschner made similar comments in an interview last month, and said that the ex-president has committed "crimes against" his own supporters.
"So, while his supporters go to prison, Donald Trump can continue to play golf and hold hate rallies and fundraisers," he added. "There is a deep, disturbing injustice in America right now and it will only be remedied if Donald Trump is indicted, and tried and convicted and punished for his crimes against the United States," Kirschner said during an episode of his show, Justice Matters.