Former President Donald Trump has suggested that he would easily win a presidential election against a hypothetical combined ticket of former presidents Abraham Lincoln and George Washington.
Trump made the remarks during a speech on Wednesday at the Hispanic Leadership Conference in Miami, Florida. The former president praised his administration's record concerning Hispanic Americans before boasting about his "numbers" prior to the COVID-19 pandemic. He said that pollster John McLaughlin told him just before the virus emerged that he would win in a landslide if the country's first and 16th presidents "came alive from the dead" and decided to run against him.
"The numbers were numbers that nobody could even believe," Trump said. "I remember a very famous pollster, very well known, John McLaughlin came to my office just prior to the plague coming and he said, 'Sir, if George Washington and Abraham Lincoln came alive from the dead and they formed a president-vice president team, you would beat them by 40 percent.'"
"That's how good our numbers were," he continued. "I'll never forget that, because that would be a tough tandem, George Washington and Abraham Lincoln…. 'Ladies and gentlemen, George Washington and Abraham Lincoln have announced that they will be running for president and vice president.' I would say, 'Oh man, that's tough, that's a tough one.'"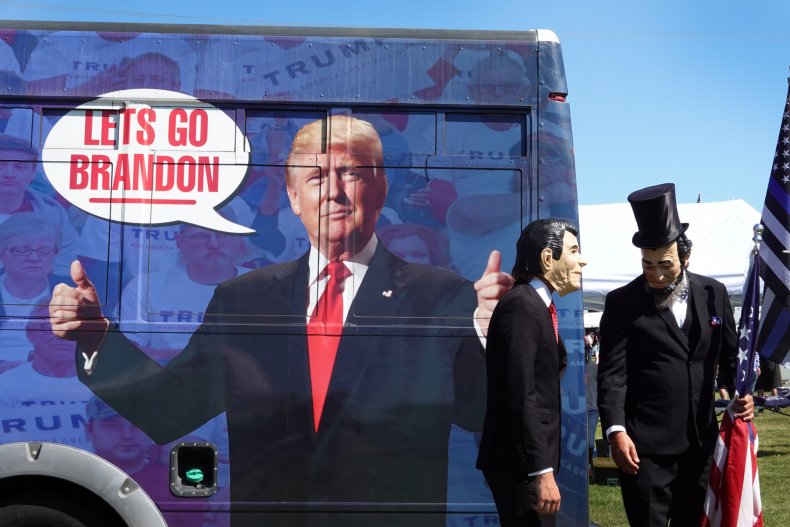 Trump also spoke about doing "much better" in the 2020 presidential election, which he has repeatedly falsely claimed was "stolen" from him, than he did when he secured the presidency in the 2016 election.
Although the former president did get more votes in 2020 than in 2016, President Joe Biden won over 7 million more votes than him. Trump is one of only five presidents to win the White House without winning the popular vote.
In a 2021 C-SPAN survey of presidential historians, Lincoln and Washington, respectively, were ranked the top two presidents in U.S. history. Trump was ranked the fourth-worst president, beating only Franklin Pierce, Andrew Johnson and James Buchanan.
John Harden, an assistant professor of political science at Ripon College, told Newsweek last month that Trump would likely rank higher on a list of "grandiose narcissism" among U.S. presidents. Trump was not included in a study from Harden ranking the narcissism of presidents who served between 1897 and 2009.
"Personally, I think Trump is quite high for grandiose narcissism, but may be below figures like Lyndon Johnson, who showed his genitalia to staffers in the White House, and Teddy Roosevelt, who actively found challenges [outside politics] to overcome in order to demonstrate his greatness," said Harden.
Newsweek reached out to McLaughlin for comment.