Hurricane Ian, thought to be one of the strongest storms to ever strike the United States, was not enough to keep Americans from their McDonald's drive-thrus.
The hurricane hit southwestern Florida as a Category 4 on Wednesday, wiping out beach towns and leaving a trail of destruction all the way to inland communities around Orlando. Across the state, 1.7 million people remained without power on Friday afternoon, according to PowerOutage.us. AccuWeather has reported that the wreckage could result in up to $210 billion in damages and economic losses.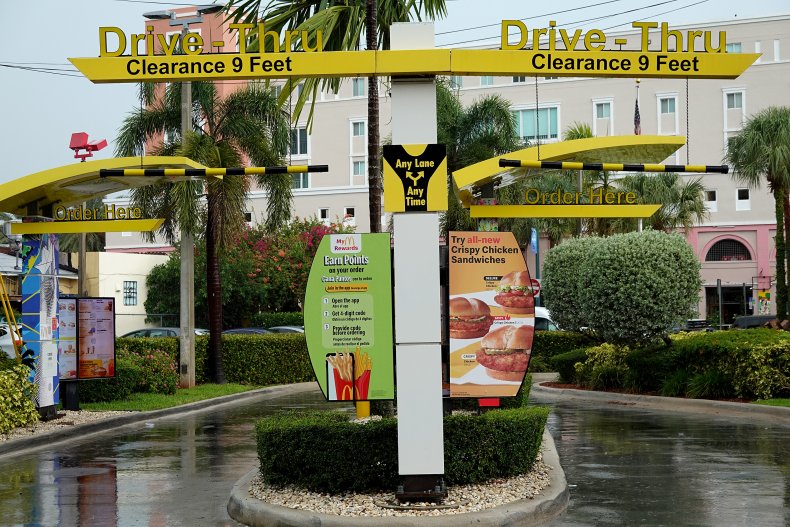 None of this deterred the long lines of cars waiting patiently outside McDonald's drive-thrus this week—despite the fact that the restaurants were closed.
Patrick Lambert, who lives in Florida, said he watched cars line up at a closed McDonald's drive-thru for nine hours on Thursday.
"In what's probably one of the funniest stories of Hurricane Ian, McDonald's left its automated response on that says, 'Hi! Welcome to McDonald's, are you using a mobile order today?' And so, line of cars," Lambert said in a TikTok video with over 1 million views.
His footage panned over more than a dozen cars snaking around the drive-thru and down the street.
Later in the day, Lambert posted an update that showed cars still waiting outside.
"It is now 5 p.m. eastern and it's still going on," he said. "Been here since 8 in the morning. No one at any point today has ever stopped to tell all these people it's actually closed."
Sympathizing with the ill-fated customers, Lambert even printed a sign that read, "MCD's IS CLOSED. Sincerely, a good Samaritan who can't watch people drive through for nothing anymore!"
Meg Mallory of Lakeland, Florida, posted a TikTok video of her own local drive-thru, which appeared even more packed.
"Hurricane Ian just ripped through our town last night and this is the drive through line for McDonald's… but it's closed," said her caption.
Floridian Dylan Malone filmed yet another long line of cars as he drove by.
"This is how ridiculous people are being right now in Florida," he said. "So this is a McDonald's that is closed. They are closed. And you've literally got a whole line of people."
He counted up to 10 cars waiting in line before yelling out his car window, "Y'all know they're closed, right?"
As Malone drove past the empty drive-thru window, he zoomed in on a taped piece of paper that confirmed the restaurant was indeed closed.
Newsweek reached out to Lambert and McDonald's for comment.